Artwork currently showing
Click on the thumbnails for a closer look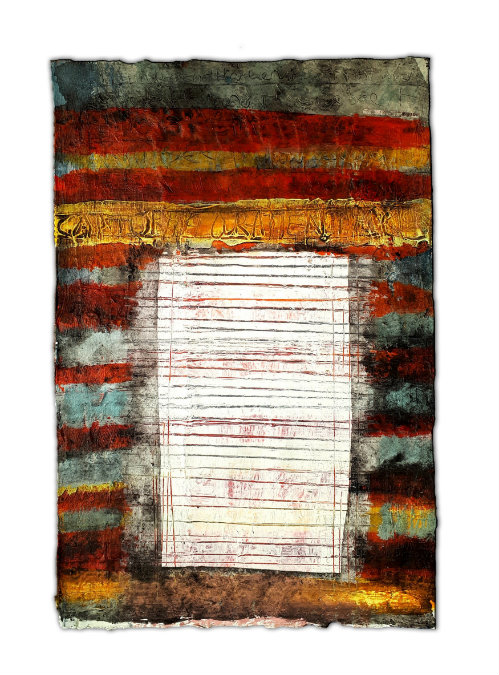 Gary Robinson
Artist profile
Statement:
'Art may be defined as the middle quality between a thought and a thing. The union and reconciliation of that which is nature and of that which is exclusively human. It is the figure landscape of thought.'
My paintings are formal reconstructions of real experiences and could be seen as equivalents for the circumstances in which they originated. I use crooked squares, single images handwritten notes, and spontaneous marks as tools in my work to engage the viewer.
I am concerned with the physicalities of paint, a sense of place and wonder, and how to convey this. These particular paintings are the result of four years of looking at a simple field and an independent tree on the outskirts of my hometown. I have a tendency to isolate certain images and by doing this highlight the ordinary beauty that surrounds us all. All things can be found in these field and tree paintings. There is life, death, renewal and an element of protecting the history of both. In a way, they are like portraits of something caught in a glimpse.
The tree paintings are of one tree, separated from the rest on a hill top. It acts like a sentry, overlooking the community, protecting it like a guardian. The 'Streetheads' connect the rural with the hustle of urban living.
I would use handwritten notes in the work and these lines can flicker in and out of visibility, emerging from and then vanishing beneath layers of paint. Some of these 'notes' are addressed to the viewer while others are more like my own mutterings. Each work would be similar to single frames that have ended up on the editing floor. I have taken these and given them a new lease of life. I hope that this work has a new life and that when viewed they awaken themselves and the viewer. It is a collaboration between both.
Educated:
1988 Letterkenny R.T.C. Art and Design
1989 National College of Art and Design (Fine Art Degree)
Solo Shows:
2001 "Tracings" One Man Exhibition – Atrium Gallery, Longford
2004 "Portal Paintings" Market House Gallery, Monaghan
2006 "Portals and Vessels" Origin Gallery, Dublin.
2007 '10 Paintings' The Dock – One man show – Carrick on Shannon, Co. Leitrim
2007 Boodles Emerging Irish Artist - One man show - Dublin
2007 'Open' - Atruim Gallery - Longford
2009 'In-between Lines & Circles' - Linenhall Arts Centre, Castlebar
2011 'A Field in Ballagh' – The Origin Gallery – Dublin
2012 'My Crooked Field' – Galway University Hospital Arts Trust
2012 'Fields and Converscapes' – The Customs House Gallery – Westport
2014 – Ballina Arts Centre –
2014 – The Luan Gallery – Athlone
2014 – NUIG Arts - October
2014 – 'This Tree on a Hill' – The Origin Gallery Dublin
2014 - Gary Robinson & John Kingerlee – Cill Rialaig Arts Centre
2015 – The Market Place Gallery – Armagh
2015 – Gary Robinson & John Kingerlee – The Origin Gallery – Dublin
Group Exhibitions:
1998 "Emerging Artists" Atrium Gallery, Longford
2002 "Group Show" Cross Gallery, Dublin
2005–08–10-12 Boyle Arts Festival
2005 Participant in the Lough Ree Arts Festival
2006 Roscommom Arts Centre group show with Anthony Pilbro
2007 Christmas Show - Bridge Gallery - Dublin
Purple Onion Gallery - Summer Exhibition Group Show.
2008 Claremorris Gallery - Group Show with John Shinnors, Donal Teskey.
Bad Art Gallery – Dublin
Leinster Gallery – Dublin
Lavit Gallery – Cork
Gordons Gallery – Derry
Royal Ulster Academy Annual Exhibition – 2010
2011\14 – Doorway Gallery – Dublin
2011 – Caldwell Gallery – Belfast
2006 \ 2013 – Origin Gallery – Dublin
2012 – Customs House Studios – Westport, Co. Mayo
2012\14 – Kennys Gallery – Galway
2013 - Engage Longford Group Exhibition
2014 – Selected artist - Ross Fine Arts Summer Exhibition
2014 – McKenna Gallery Summer Exhibition
Residencies:
1997 Fire Station Studios – Buckingham St. Dublin, Residency with
Shane Cullen Inner City Project.
2006 Residency in Cill Rialaig Artists Retreat Centre – Kerry
Collections:
Ireland and England – Monaghan County Council – Monaghan V.E.C.
Longford County Council – Boyle Civic Trust – Office of Public Works
Commissions
1999 Public Sculpture Commissioned by the National Millennium Commission, Longford
Office of Public Works
Publications
Longford Leader
Glor
Midlands Arts & Culture Magazine
The Whole Planet is a Garden – the Genius of John Kingerlee