Artwork currently showing
Click on the thumbnails for a closer look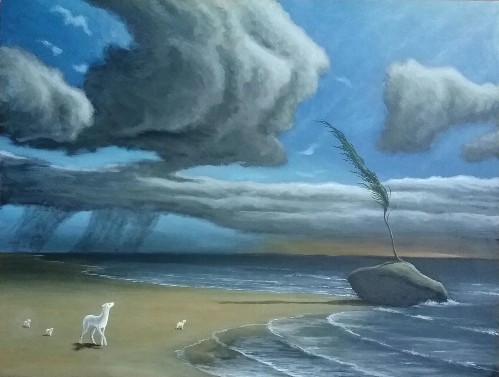 Robert Ryan
Artist profile
"My images are of a universal landscape where generic creatures wander like lost souls."
Referencing post-modernism, Ryan's lyrical, beautifully rendered and hauntingly evocative paintings borrow qualities from European old masters, using traditional characteristics in a modern context.
Robert Ryan paints landscape, but his work cannot be described as 'landscape painting'. Rather, the works explore allegorical concepts including the infinity of space and time, solitude, vulnerability, fragility and the cycle of life. "This is work that ultimately celebrates the commonality between man and all other creatures – past, present and future."
Born in County Limerick in 1963, Ryan graduated from Limerick School of Art and Design in 1987. He has exhibited extensively in Ireland and abroad and his work is included in many important collections including the National Portrait Collection, National Contemporary Drawing Collection and Office of Public Works Collection.