Artwork currently showing
Click on the thumbnails for a closer look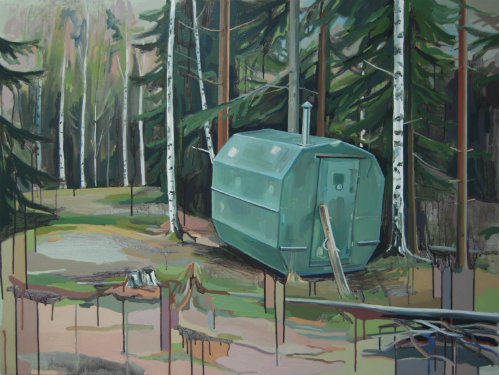 Cecilia Danell
Artist profile
Cecilia Danell (b.1985) is a Swedish artist based in Galway since 2004. She mainly identifies as a painter, but also uses other media including installation and experimental film in a practice which draws its inspiration from analytical psychology, existentialism and the Scandinavian landscape. She has an interest in exploring how places impact on a person in a psychological sense, how they shape and define us and become a part of who we are. She tries to pinpoint her own place in the world, while also using the landscape and built environment to stage a metaphorical merging between the outer environment and inner being, through Jungian archetypes and dream theory. The solitude and vastness of the woodlands where she spent much time in her youth is something she keeps returning to in her art. The mixed feelings of otherness and familiarity that she is faced with when re-entering these places touch upon a universal as well as personal condition; of exploring the otherness within oneself as well as the connection between the self and the surrounding world, inspired by writers and film-makers such as Knut Hamsun, Hermann Hesse, Franz Kafka, Ingmar Bergman and Andrei Tarkovsky.
Danell graduated with a BA (Hons.) in Fine Art from GMIT CCAM, Galway in 2008 and was awarded Paint Student of the year. She is serving on the board of Directors with Engage Studios (secretary). She has exhibited solo in the Eight Gallery, Dublin (2014), Talbot Gallery, Dublin (2012) and Wexford Arts Centre (2012). She has participated in two-person exhibitions at TACTIC, Cork (2016), Motala Konsthall, Sweden (2014) and Ballina Arts Centre (2012) and numerous group exhibitions, including Veins, Molesworth Gallery, Dublin (2016), Creative Wave, Galway City Museum as part of Galway Arts Festival (2016), the RHA Annual Exhibition (2015), Wildscreen, Connemara (2015), Galway, Gateway to Connaught, Galerie du Faouedic, Lorient, France (2014), Kaleidoscope: Art from EU Member States, Farmleigh Gallery, Dublin (2013) where she was invited to represent Sweden, Tulca Festival of Visual Art (2010, 2012, 2014) and The Claremorris Open (2007, 2010, 2016). Awards include the individual Artist Bursary (2013, 2015) and Tyrone Guthrie Residency award (2012) from Galway City Council, the Wexford Arts Centre Emerging Artist Award (2011), An Arts Council Project Award for the project 'Build Your Own: Scandinavian Loneliness' (2011) and an Arts Council Bursary (2010). She spent February-March 2016 on residency at the Nordic Artists' Centre Dale in Western Norway, funded by the Norwegian Ministry of Culture. She is currently funded through an Arts Council Project Award to make work for a solo exhibition at Galway Arts Centre which will take place in March/April 2017 and tour to The Dock Arts Centre, Carrick on Shannon in June-August 2017.
Her work is featured in the Wexford County Council Art Collection, the Kelly Collection Rosslare, Motala Municipal Art Collection, Sweden and the OPW collection as well as private collections is Sweden, Norway and Ireland.