Artwork currently showing
Click on the thumbnails for a closer look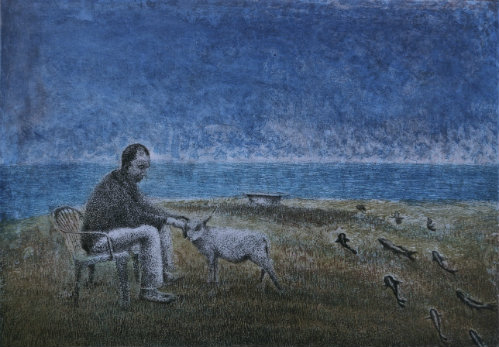 Daniel Lipstein
Artist profile
Curriculum Vitae
Born: Tel Aviv, Israel, 1959.
EDUCATION
2007-2009: Masters in Fine Art, Print, National College of Art & Design, Dublin
2002-2006: BA (Hons) Degree in Fine Art, Print, National College of Art & Design, Dublin
EXHIBITIONS
2017
Royal Hibernian Academy, 187th annual exhibition, Dublin, (K&M Evans Prize for Painting)
Facing West, Main Exhibition, Boyle Arts Festival, curated by Paul McKenna
Impressions, biennial multidisciplinary fine art print exhibition, GMIT, Galway
Summer Exhibition Graphic Studio Gallery Dublin
'Another Bite of the Cherry', exhibition of Graphic Studio members at the Botanical Gardens, Dublin
2016
'Song-Lines', Two person exhibition of etchings with Niall Naessens at Hamilton Gallery Sligo
'Legacy', the National Fine Art Print Exhibition at the Hyde Bridge Gallery, Sligo (prize winning entry)
'Waterbased', group exhibition at The Graphic Studio, Dublin
'Waterbased and Other Stories', group exhibition of prints at Glor, Ennis
Two person exhibition of etchings and work on paper at Custom House Studios Gallery, Westport
Summer exhibition, SO Fine Art Editions, Dublin
Summer exhibition, Graphic Studio Gallery, Dublin
Group exhibition, Galway Print Studio
Royal Hibernian Academy, 186th annual exhibition, Dublin
End of the Year exhibition, Custom House Studios Gallery, Westport
Statement:
'My work are 'simple', nature or landscape based compositions, aiming to be balanced and pleasant visual creations, with a lot of energy in the pigments and the tones. In the same time, upon a prolonged observation, my work aims to unveil and communicate something of a metaphysical nature, an essence or a power that exists at the ebb of life, as principles, dealing with the question of the nature of our existence'.
Daniel Lipstein
'Compassion, Meditation at Fishtree', Solo Exhibition at Graphic Studio Gallery , Dublin, 9th April – 2nd May 2015
'Compassion, Meditation at Fishtree' is the title of my show, which is the combined titles of two multi-plate etchings and aquatints featuring in this exhibition. These two works contain some of the elements of my visual language that I developed as poetry that tries to touch the essence of the heart, and the core of moods and atmospheres.

While each etching and aquatint in this body of work has its own unique content and story to tell, I chose the two works 'Compassion' and 'Meditation at Fishtree' as the title for the entire exhibition.

The act of meditation, in this case the meditation at the extraordinary phenomenon of Fishtree, is a cerebral activity that aims to enlighten our intellectual mind and eventually lead us to wisdom. Such wisdom brings us to the world of compassion, which is the ability to feel for and understand the other, be it a human being or an animal.

The work of the artist, as I see it, is the work of meditation while constantly staring at vastly incomprehensible things, and continuously experiencing the inability to know what is it, what I am looking at. The meditation is twofold, external and internal. While trying to see clearly and understand what I am seeing, on the outside, I also meditate on the state of my ignorance, inside, my own inability to know. The internal meditation initiates me into the world of Compassion and in this way while meditating at Fishtree, the world of Compassion is born .

I feel that most human beings spend their lifetime meditating at Fishtree, witnessing mystical, psychological and physical phenomena they do not understand, while constantly searching for the world of the heart, that is the world of compassion. This is probably synonymous with the 'Heart of Gold' that Neil Young and other musicians and poets are looking for.
Daniel Lipstein, March 2015
My paintings, etchings and lithographs are explorations of dream visions and dreamlike visions that I compose while being fully awake. I make large, medium and small scale paintings in different media that include oil on canvas and mix media on paper. I emphasize the surfaces of the work as cohesive fields of energy, abstract expressionist in style, and I strive to achieve unity between my subject matters and the layering of pigments and brushstrokes.
As a print-maker I work in the same spirit, creating visions with many marks in hard ground, soft ground and sugar lifting aquatint, on copper plates.
My work thus is continuous as a one integral body between the different media that I use both as a painter and as a print-maker.
My subject matters are amalgamated mainly from landscapes of midland Ireland where I live for the last thirty years, and from the seashore of the Mediterranean Sea where I grew up as a child in Tel Aviv, Israel. Therefore it happens that the ocean appears behind the Curragh in Kildare, and the fish, my favorite creature, travels the land in and out of the ocean, and also attempts to climb on bathtubs, those curiously sculpted items that Irish farmers leave in open fields for their cattle to drink from.
In creating visual compositions and executing them via the energetic work of my chosen medium I strive to create artworks of strong atmospheres that project the trueness of their poetical content.
Daniel Lipstein, June 2013