Artwork currently showing
Click on the thumbnails for a closer look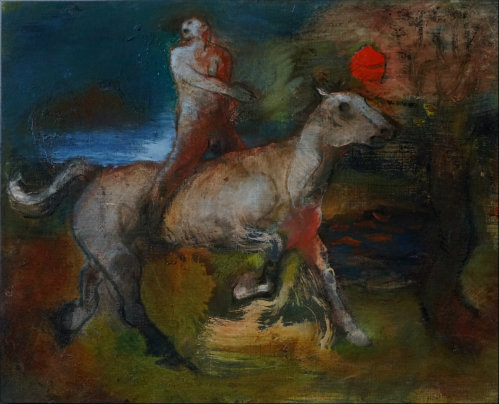 Brian McDonagh
Artist profile
Born Dublin, Ireland.
When Brian Mc Donagh moved to Sligo in the west of Ireland in 1990 the area already had a reputation as perhaps the Irish St Ives. Brian had already established a solid reputation as a musician being a founder member of the Traditional Irish super group Dervish with whom he has produced many award winning recordings.
Sligo had a strong traditional music scene and was the source of a musical revival that had reinvigorated Irish music in the seventies. But it wasn't the music scene that brought Brian to the west, he had already become disenchanted with city life in Dublin and he wanted to find a simpler mode of existence. He found it in the rural community of Sligo.
Painting had always been a major part of Brian's life, he was a frequent visitor to the many galleries in Dublin and had become familiar with the work of Basil Blackshaw, Patrick Collins and Sean Mc Sweeney, who was by then widely recognized as one of Ireland's foremost painters with a burgeoning international reputation.
Around this time Sean accepted an invitation to join the fine art teaching faculty at the Sligo Regional College.
In 1992 Brian joined the painting course and began a four year course of instruction under Sean and John O Leary, another noted Sligo painter at the time. Under their influence he began to develop his technique. Tending towards a more figurative style, Brian took his influence initially from the London painters Bacon and Fraud and more laterally Frank Aurbach.
Brian is an established painter in Ireland and has had many exhibitions at home and on the continent.